Last time I posted, I wrote about some of the most popular cards from 1993 through 1998. I am continuing that series, starting with 1999.
1999
While I did collect in 1999, for some reason, I just didn't collect as much. I didn't get my first 1999 Topps cards until around April (the set came out in January, I believe), and still to this day, I don't have much of 1999 product in my collection. I started working that year, but I don't think that was why. I remember buying cards frequently when I started working. With that being said, I don't remember too much about 1999. I know McGwire and Sosa were still hot, and it was just about the same as the previous year.
2000
I may get a few of these years wrong, but I believe in 2000 that it was basically guys from 2 teams, the A's and the Yankees who were hot.
Alfonso Soriano was hot for the Yankees, and I remember his '99 Bowman Chrome card selling well.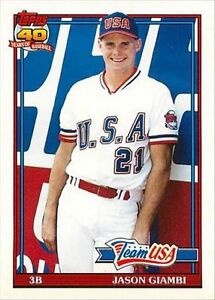 Jason Giambi was starting to break out, and his rookie was popular during his MVP season.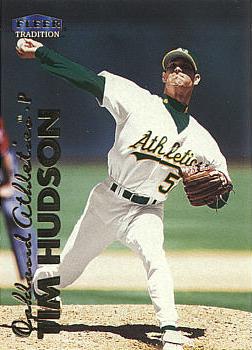 Tim Hudson won 20 games in 2000, and his rookie card from 1999 Fleer was popular as well.
2001
This is where things get kind of interesting. Normally, when a player gets hot (like McGwire and Sosa in 1998), their cards start taking off, most notably, their rookie cards. In 2001, 2 players had great rookie seasons, and what further complicated the matter was that they didn't really have any mainstream issues out when they started doing well. That left collectors at the mercy of the cardmakers, kind of like they are in 2018, except for back in 2001, there weren't 100 parallels per set and although there were many more sets per main brand, there wasn't all of this high-end garbage that the average collector can't get their hands on.
Albert Pujols got off to 2001 on a tear, and didn't stop until he signed with the Angels. He is a first-ballot Hall of Famer, and I remember buying a dozen or so packs of 2001 Topps Traded trying to get his rookie card that year. I finally ended up pulling one, as well as a Chrome card of him and Pujols from the same set.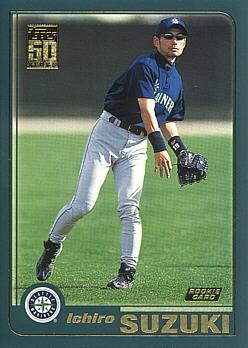 Ichiro had his base Topps rookie in the set, and I purchased a 2001 Topps Series 2 set and got it, as well as a 2001 Upper Deck MVP rookie that I purchased a few months ago. Ichiro's cards were on first in 2001, and besides a few Japanese cards, he didn't have anything until the middle of 2001. I was just starting college, and the internet wasn't like it was today, else, I may have picked up a card of him online instead of trying to bust packs and eventually buying the set to get him. Ichiro's situation kind of mirrors Ohtani's where he Ohtani didn't have any US cards until the year he was playing, so instead of having cards to meet the demand, collectors were waiting for them to be produced.
We can't talk about 2001 without talking about Barry Bonds. His 1987 Fleer Tiffany card, as well as 1986 Topps Traded card were selling well and everyone wanted to get one.
2002
I really don't remember anybody other than Bonds being very hot in 2002. Francisco Rodriguez kind of was, but that was more after the Angels won the World Series and in 2003 than in 2002.
2003
2003 was the year the Marlins lucked into a World Series win, and Josh Beckett got hot, as well as Miguel Cabrera, and Dontrelle Willis cards. I also want to say that Jose Contreras made a little buzz too.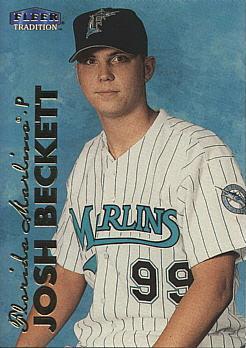 Beckett seemed to me like he lucked into a few post-season wins and wouldn't be as good as everyone thought he would be, but he got the last laugh, and I probably should've picked up one of his rookies.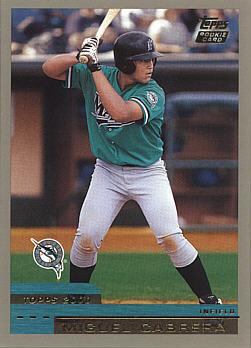 Miguel Cabrera seemed like he was going to be good just by how I heard everyone talk about him. I remember in 2002, I was 19, and I would see who the Lakeland Tigers (my hometown minor league team) were playing, run to the card shop without searching for a roster online, and getting a handful of Bowman singles, going to the game, and seeing if anyone I had was on the roster and get those cards signed. I did that once when the Tigers played the Brevard Manatees (the Marlin's single A team), and I got a 2001 and 2002 Bowman of Cabrera, and he signed both. Everyone at the game said he was going to be good, and I guess he is.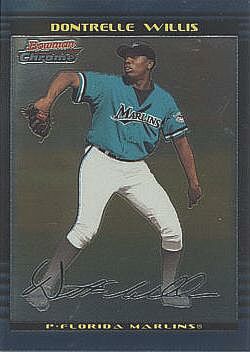 Dontrelle Willis was good, but then got injured. You never know what he would've been like without the injuries, but I remember when he was on, he was special, and his cards were on fire.
2004
I want to say that 2004 was a normal year. The Red Sox won the World Series. David Ortiz led them to the title, and he was hot, but not like ON FIRE hot like the cards I am trying to think of.
2005
I don't really remember anything special about 2005. There were alot of nice Draft Picks, but they weren't hot back then.
2006
'06 was new territory for collectors. We wouldn't have Draft Pick cards in Topps sets anymore. Only Topps, Upper Deck, and Fleer had an MLB license, and we weren't sure if anyone would collect the new Bowman 'first year' cards. Topps was hot that year because of the Alex Gordon 'mixup', Jeff Francoeur, Prince Fielder, and Ryan Howard were hot, as was the first issue of the Topps Allen & Ginter set.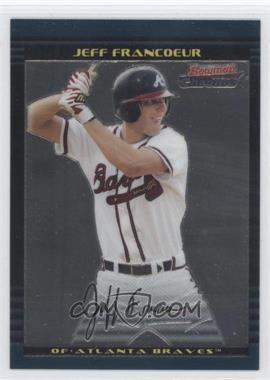 I remember Jeff Francoeur's 2002 Bowman Chrome card selling pretty well in 2006, and I was kind of pissed because I had bought a ton of packs of Bowman and Bowman Chrome in 2002 and didn't pull a one.
Prince Fielder's 2002 Upper Deck card sold pretty well as Prince was on his 50 HR season. I never pulled it, but I did have a few of his cards from 2006 products.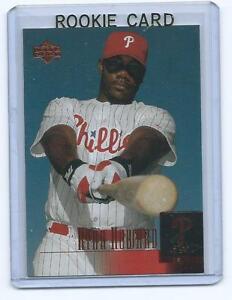 The earliest Ryan Howard card I have is from 2003. I could probably land this one for cheap on COMC and add it to my rookie card collection. Ryan could mash when he was healthy, and this card was very popular when he was.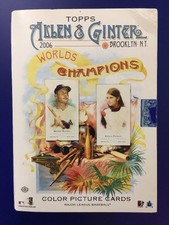 When the Allen & Ginter set first came out in 2006, it flew off of the shelves. People were trying to pull the George Washington hair relic card, and any other relic they could get their hands on. I purchased a pack, and my best friend purchased a box. I got nothing, and my friend didn't pull anything of note. Too bad there weren't any good rookies in that set.
2007
I remember 2007, and I have some old Beckett's to prove it. 2 guys from Japan were hot, and a card of a Yankee captain with the Mick and George Bush drove Topps packs off of the shelves.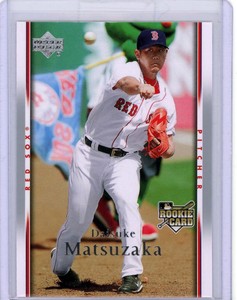 Daisuke Matsuzaka didn't have any cards out really when he signed with the Red Sox, so anything he had was hot. I believe he had a card in the 2006 Upper Deck WBC box, but other than that, it was all overseas stuff. His 2007 Upper Deck and Topps Moments & Milestones cards were super hot back then.
Kei Igawa signed with the Evil Empire, and was supposed to be the Yankee$ version of Matsuzaka. He flamed out, but his cards were hot in 2007 before he started pitching.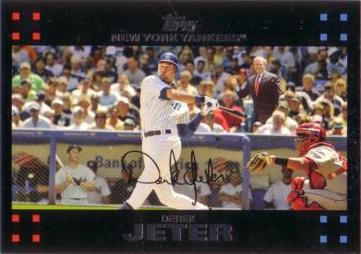 The most popular of all of the many 'gimmick' cards by Topps, the Jeter/Bush/Mantle card had people who had never opened a pack before trying to get one. I pulled two, and gave the dupe to a friend who didn't collect that wanted one. I wish they had let this card get into the Topps Chrome set, because I pulled a Jeter Chrome that year as well.
2008
In 2008, the stinking Phillies beat my Rays in the World Series, and around that time, a few of their players started to get a collecting following, as well as another Japanese import.
Evan Longoria led the charge for the Rays as they made it to their first post-season appearance. His 2006 Bowman Chrome auto started getting hot as more and more people realized that he was a star in the making.

David Price got rushed to the Majors in '08, and with his work out of the bullpen, helped the Rays get to the World Series. It was just a sampling of what was to come, as David turned into on of the best pitchers we ever had. His 2007 Bowman card was hot in 2008, as was his pricier Bowman Sterling autograph card.
Kosuke Fukudome came to the Cubs from Japan, and he did pretty well starting out. His cards were hot, and I actually pulled his 2008 Topps Update card. Too bad he fizzled out pretty quick.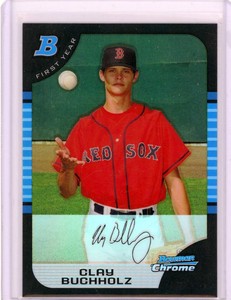 Clay Buchholz pitched a no-hitter for the Red Sox in '08, and after that, his rookie cards took off. He did have some good seasons for Boston, but not really enough in my opinion to justify all of the hype in his rookie card.
2009
2009 was a transitional year for me, so I didn't buy as many cards as I would've liked, and wasn't that up-to-date with the hot players in the hobby.
2010
I remember 2010 just because of Stephen Strasburg. He was the start of all of this "Ooh! Let's make tons of cards of the hottest player" crap that Topps is feeding us. Jason Heyward, Buster Posey, and Aroldis Chapman were also pretty hot that year.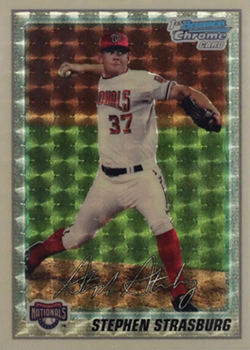 I remember Strasburg's cards were hot from the minute they got on the checkist. I purchased a few packs of Bowman, and never pulled one, but I did get a few from Topps, Turkey Red, and Topps Chrome. It seemed like Topps was making 8 different variations of each Strasburg card, which were in like 30 different sets that year.
I saw Jason Heyward in Spring Training of 2010 against the Tigers. Let me just say that at that point, all of the hype was justified. He hit a bomb in batting practice to right field that went over the stadium, past the clubhouse, and into a parking lot. I had been to over 100 games at Joker Marchant Stadium in Lakeland, and that was easily the furthest ball I had ever seen hit there. Then, in the game, he hit another bomb to right, this one not as far, but man, did it travel. Heyward hasn't put together a great season like those bombs would say he could, but he has turned out into a decent player.
I actually saw Buster Posey in September of 2009 at a Brewers/Giants game at Miller Park. He was just hanging out in the bullpen. I would've pushed harder for an autograph if I would've known how good he would be the next season. In 2010, he won the ROY award, and helped the Giants win the first of 3 World Series titles.
Aroldis Chapman came over from Cuba, and started slinging bullets. His 2010 Bowman card was hot, as was his 2009 Bowman WBC card.
2011
2011 was the year of Bryce Harper. Beginning with Strasburg in 2010, continuing with Harper in 2011, and so on in the last 6 years or so, there has been one guy that everyone seems to go after that fuels all of the cards being produced.
I must've purchased 3 Wal-Mart blasters, and about a dozen packs of 2011 Bowman trying to pull a Bryce Harper card. It wasn't technically his rookie, since he was in the 2010 Bowman USA set, and Upper Deck sets in the past. I never pulled one, but did get one of those mass-produced Bowman Chrome Refractors that was on the front of those 3-pack deals at Wally-World. Harper's cards were limited to Bowman, Pro Debut, and Heritage Minors because of the MLB rules, but even the minor league cards flew off of the shelves.
2012
In 2012, it was 2 imports, and the future face of basebasll who stole the show for collectors.
Yu Darvish appeared in a few sets in 2009 due to participating in the '09 WBC. Those cards were hot, as well as his 2012 cards. I was lucky enough to pick up his '09 Bowman Chrome card before the Rangers signed him after I heard he was going to be coming to the US soon.
Yoenis Cespedes didn't have any cards before 2012 because he came to the US from Cuba. His hot start, and the fact that he didn't have any cards yet, drove his cards to the hot list in 2012. I was lucky enough to pull his 2012 Topps card out of one of the few packs that I got that year.
I think Mike Trout is a decent player, but I think he is over-rated. Maybe it's because I am a Tigers fan and think that Cabrera deserved his MVP award in 2012. Maybe it's because before Aaron Judge, that Mike Trout was the only name I would hear on ESPN and MLB network. I would just like to see how the guy does in a big city, or with the Reds' lineup around him. With that being said, I am glad that I pulled his 2011 Topps card out of a pack. This card shot up in price around the time he finished his 2012 2nd-place MVP award season.
2013
2013 was my first full year of being married, and I was also looking for a new job, so I really cut back on spending money on cards (kind of like I did in 2012 as well). I still followed baseball, and it seemed like all I heard that year was Yasiel Puig.
Puig came over from Cuba, just like Cespedes, so he didn't have any cards until 2013. I pulled his 2013 Topps Chrome card out of a pack just last year. Wish I would've had it in '13.
2014
I didn't buy too many packs of cards in 2014, but I do remember that Masahiro Tanaka was a hot pull.
I wasn't entirely excited to pull Tanaka's rookie in 2014, but hey, he was hot, so I was ok with it. He has since turned out to be a decent starter, something you can't say for most of the guys the Yankees have signed from Japan.
2015
2015 was the year of Kris Bryant.
It seemed like every product that Topps put out had a Bryant card in it. I was extremely lucky, and pulled a Pink Topps Chrome Refractor from one of those 4-pack Chrome hangers at Wal-Mart that had the Pink Refractor pack in it. I'm hoping Bryant keep raking. His Bowman cards were really hot back in 2015 too.

Well, I think I will wrap it up with 2015. You all can probably name who Topps has been pushing down our collective collector throats the last few years. Again, if you see someone I left off or see something I messed up, let me know. Thanks for taking the time to read my latest post. -Jeremy